Sirasa Lunch Time News 20-06-2022
Sirasa Lunch Time News 20-06-2022
Submitted by
LankaHQ
on 20 Jun 2022 (12:09 PM) |
175 views
Up next
Advertisements
Read Latest Sri Lankan Hot Sinhala Breaking News from
Gossip Lanka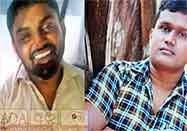 A mobile phone suspected to have been used by the police constable who aided notorious underworld figure "Harak Kata s" recent escape bid at the Criminal Investigation Department (CID) has reportedly been recovered by the Police. MORE..


29 Sep 2023 (8:58 PM)


The Department of Meteorology says the prevailing showery condition in the southwestern part of the Island is expected to continue further. MORE..


29 Sep 2023 (8:37 AM)



A gunman killed three people in the Dutch city of Rotterdam on Thursday, shooting a local woman and her daughter in their home then storming into a classroom of Rotterdam s university hospital and opening fire on a male teacher. MORE..


29 Sep 2023 (9:36 AM)